This is my sewing room version 2.0. We purchased this home almost 3 years ago and I've been slowly transforming a room in the basement into my dream sewing space.
Why black and white? I wanted this room to be a neutral palette so I could let my sewing projects add color to the room.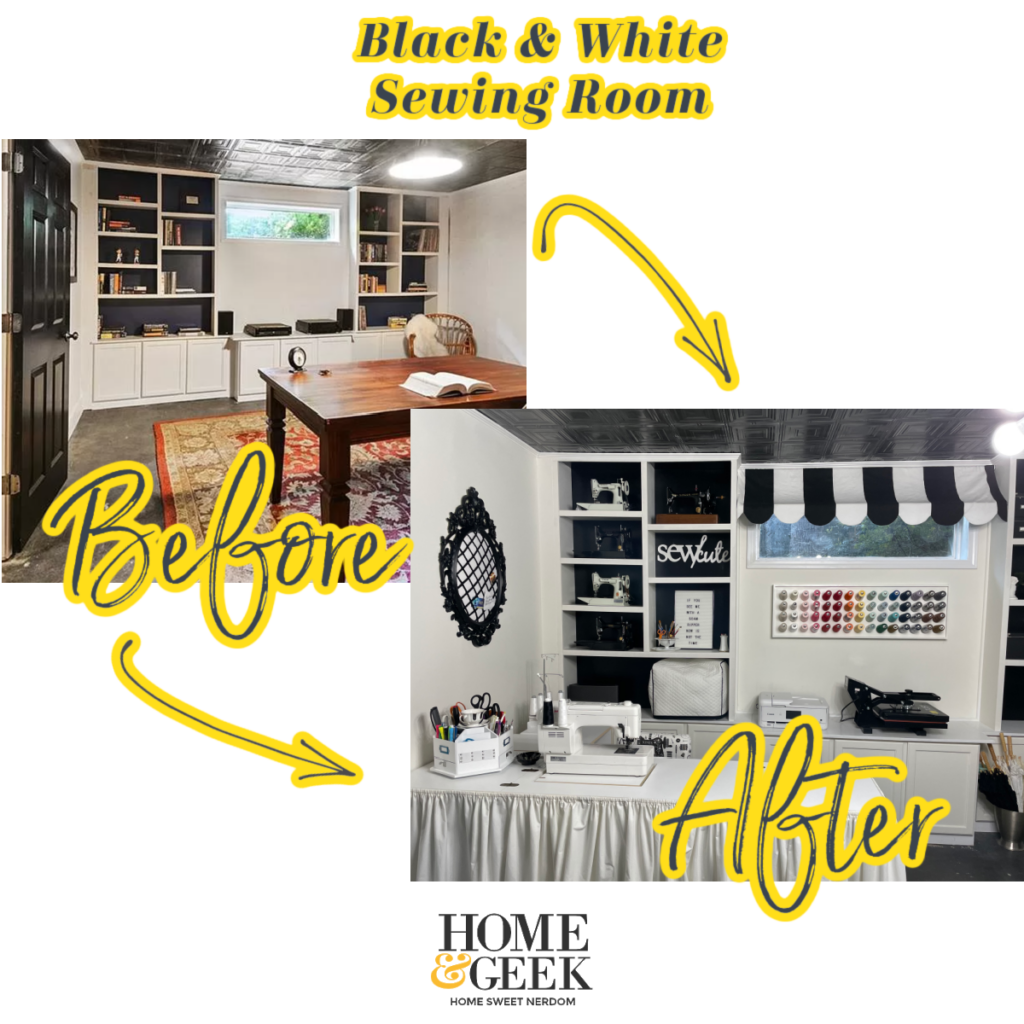 Fabric Storage Cabana
Starting on the right side of the room, I have my fabric storage cabana made from a rolling laundry hamper. You can see how I built this on this post.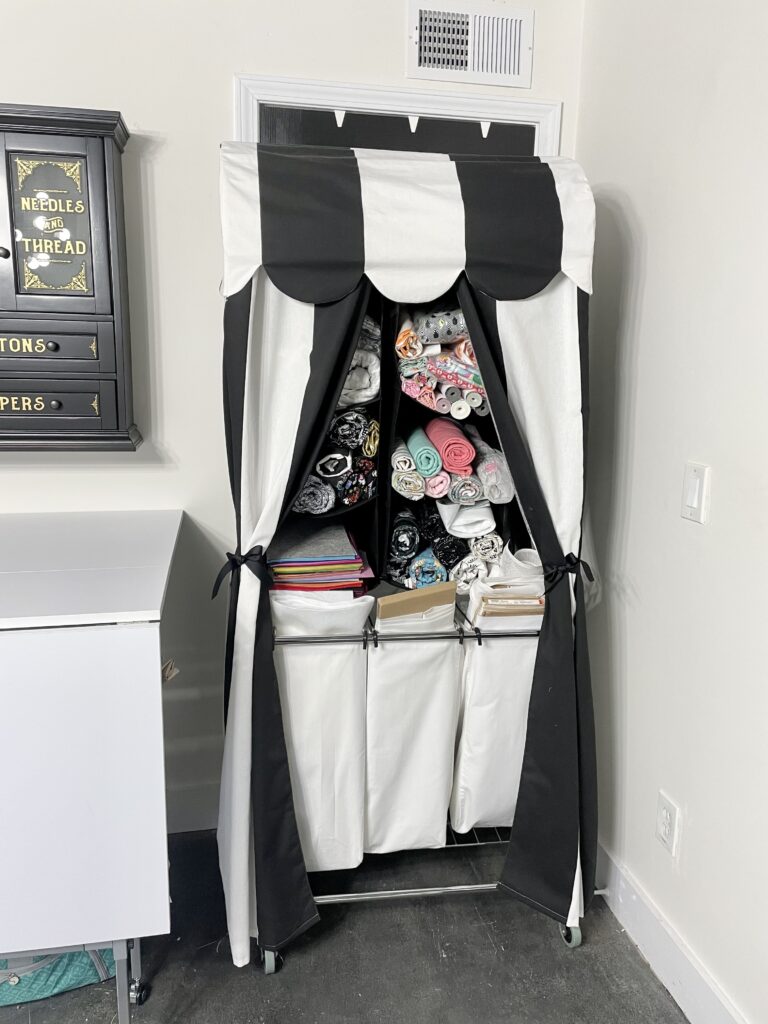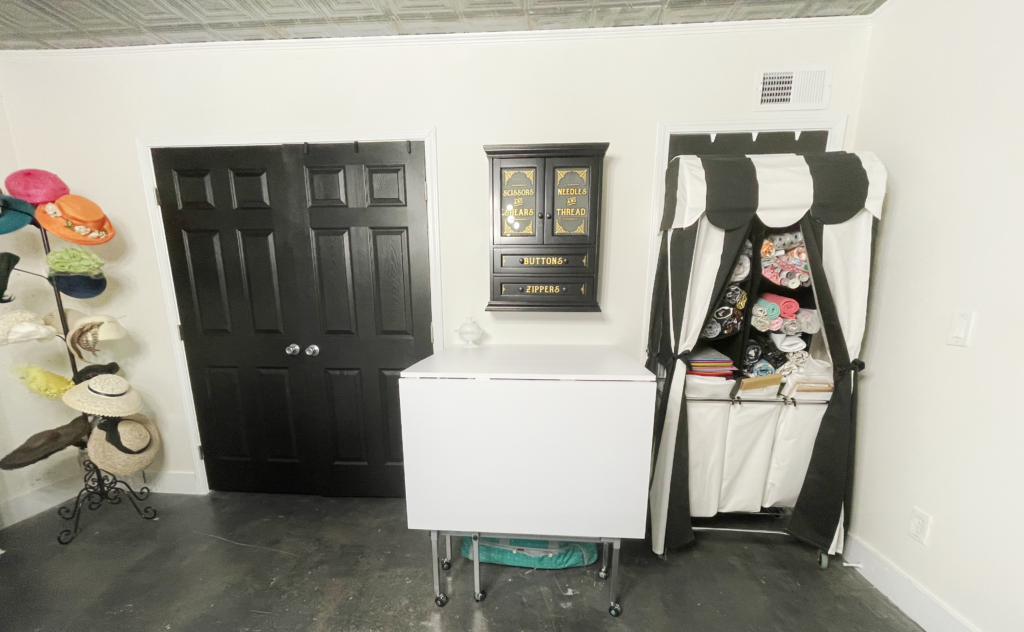 My cutting table is from Amazon. I like that it folds up and has drawers and a shelf for my rulers under the ledge. This is where I cut my fabric and use my Silhouette cutting machine. Please pardon the rough-looking concrete floors. The paint is coming up and I'm looking into an epoxy coating instead of the paint. I love having concrete floors but the painted concrete isn't working.
The wall-mounted storage for scissors is actually a bathroom cabinet that I updated with vinyl stickers that I cut on the Silhouette machine. You can see how I did that here.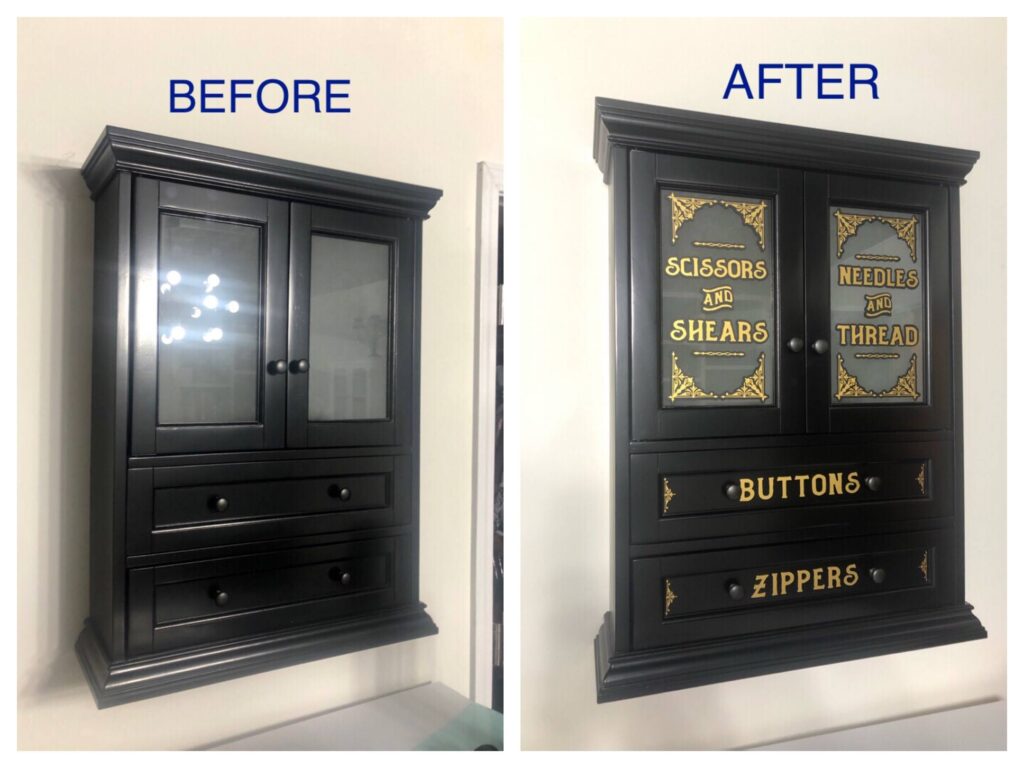 Vintage Hat Display
My vintage hat rack is in the corner. This iron hat rack was another find on Amazon and holds about 15 hats. This isn't my entire collection so I rotate seasonally. I've found some great hats over the years at estate sales, Goodwill, eBay and flea markets. I love a good hat!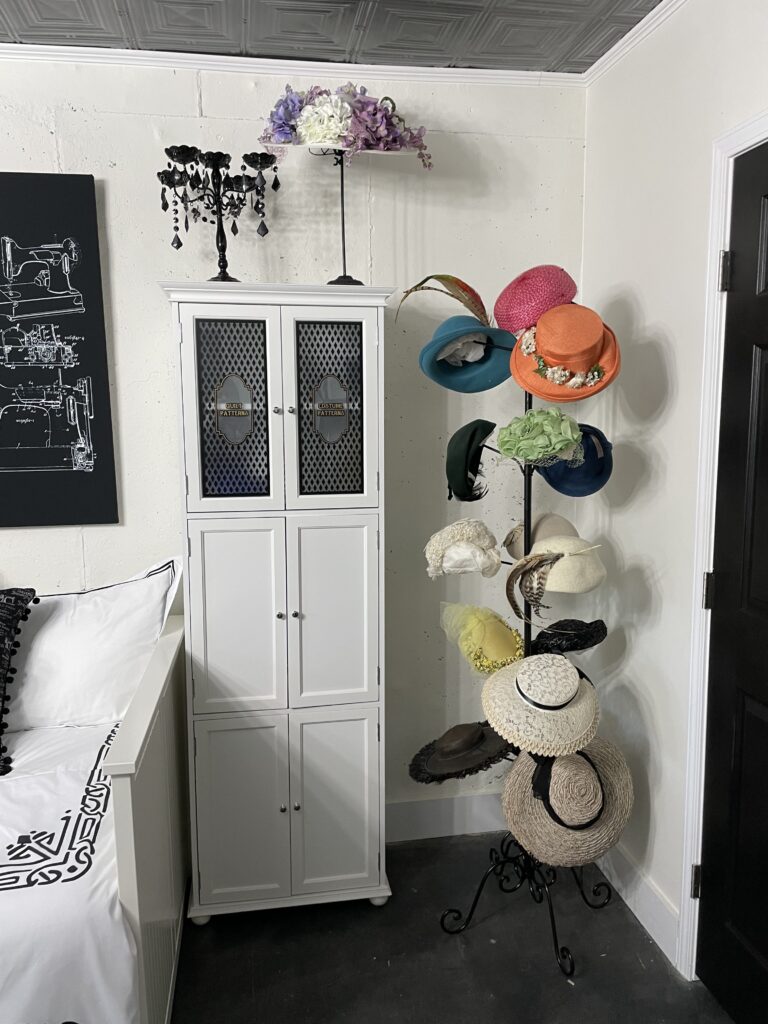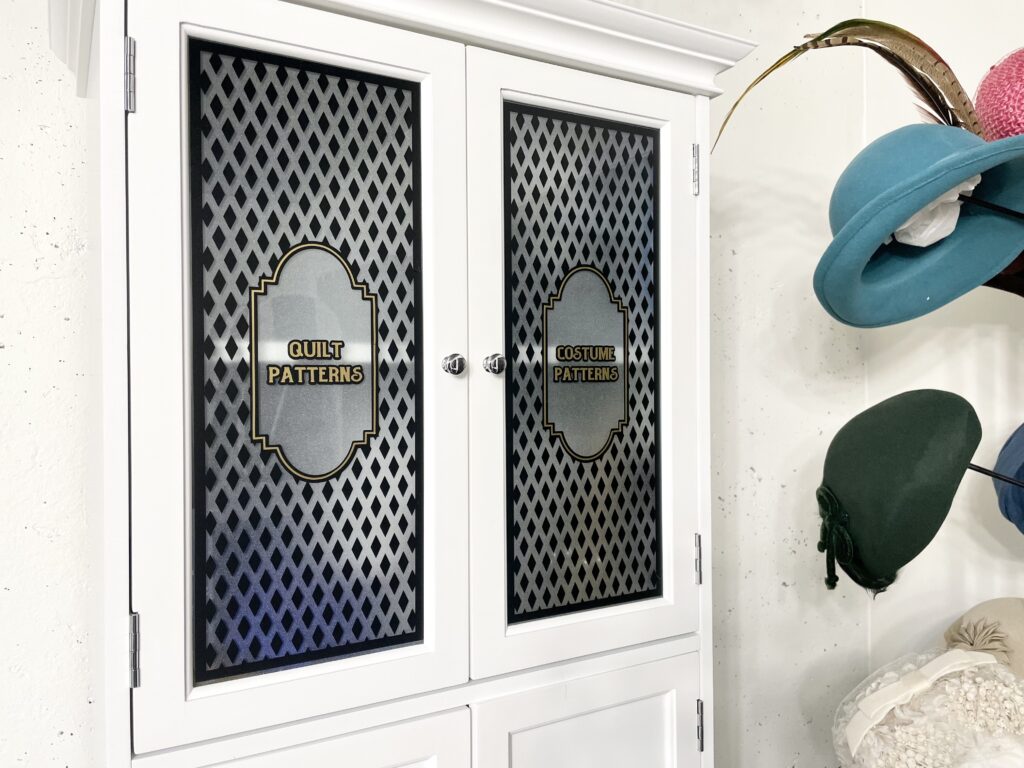 Featherweight Sewing Machine Daybed
The bed is my a Hemnes daybed from IKEA which pulls out into a king-sized bed. I love the storage at the bottom which holds extra linens and pillows. The pillows were sewn by me using flocked heat transfer vinyl for the graphics.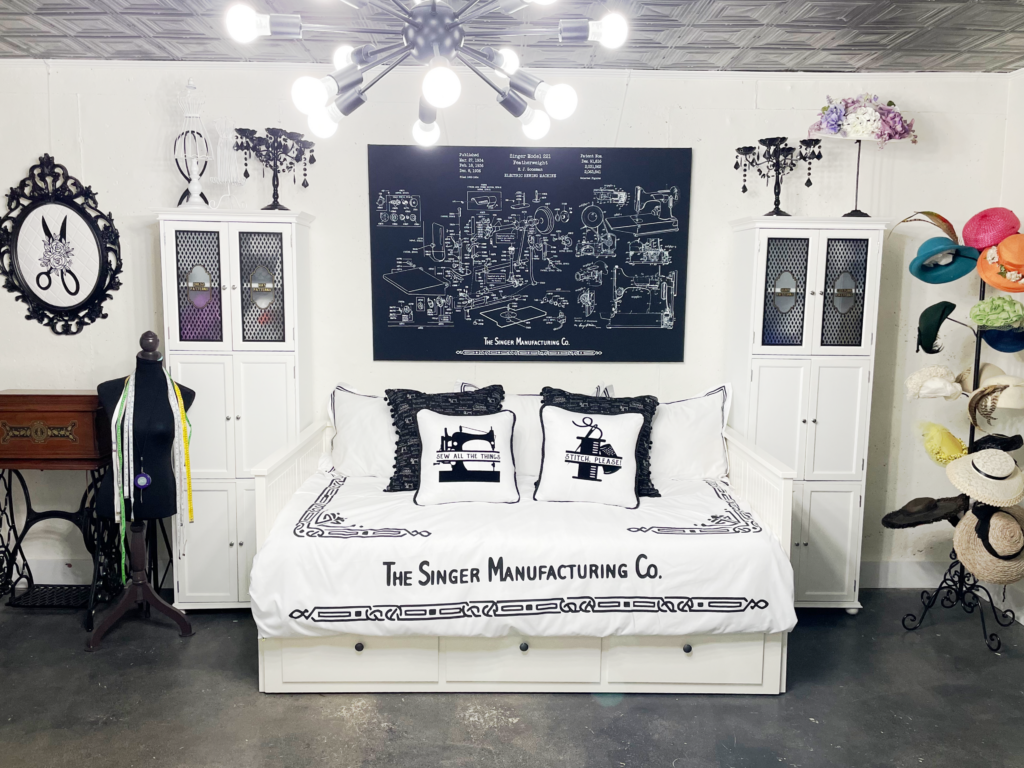 The wall art is a patent and parts diagram from a Singer Featherweight sewing machine. It measures 60 x 40 inches. You can purchase this giant wall canvas here.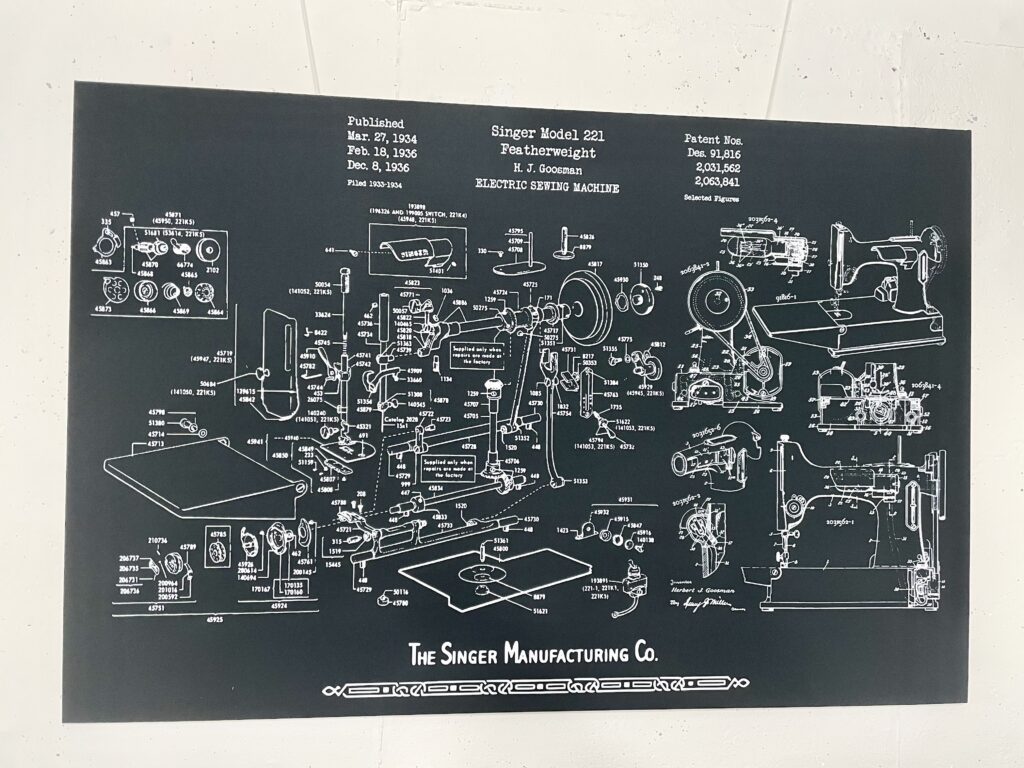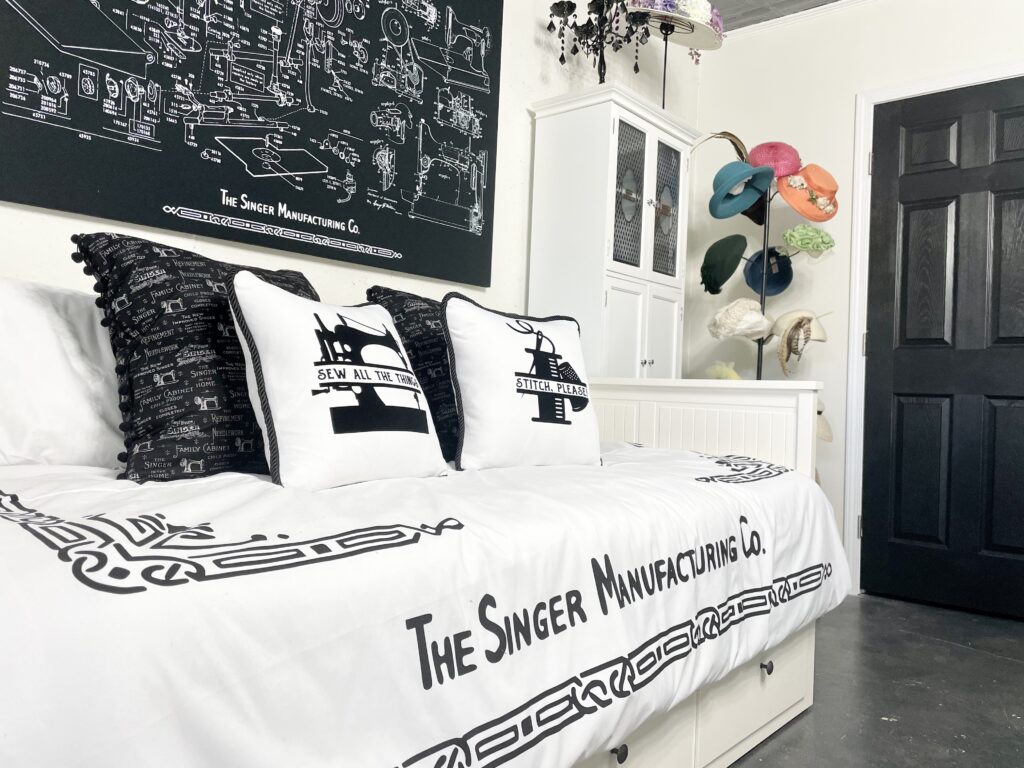 My duvet cover was inspired by the graphics found on the bed of a Singer Featherweight sewing machine. I designed it so the name was on the side of the daybed. You can buy my exact comforter for a twin day bed here. These pillows from Amazon are a perfect match for the duvet.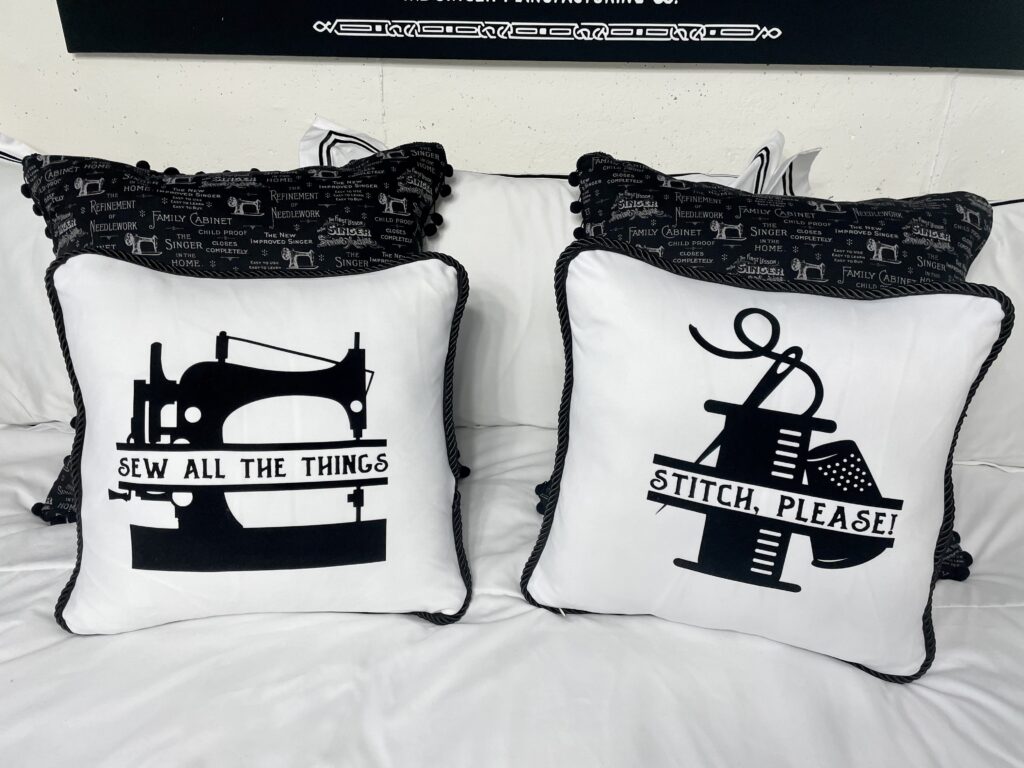 I made the sewing pillows with flocked heat transfer vinyl from my silhouette cutting machine. Don't have a cutting machine? No problem! Pillows with this design are now in our shop. The black pillows are made from a quilting cotton which was part of a Singer sewing machine collection from a few years back. The black/white stripe pillows in the back are from Amazon.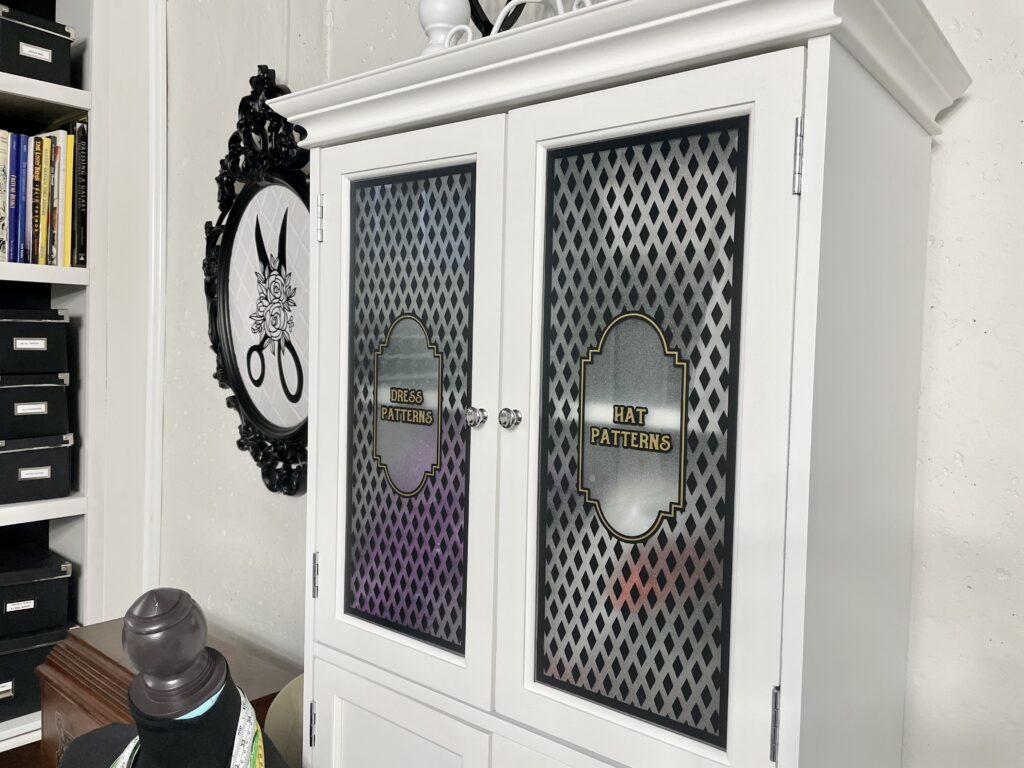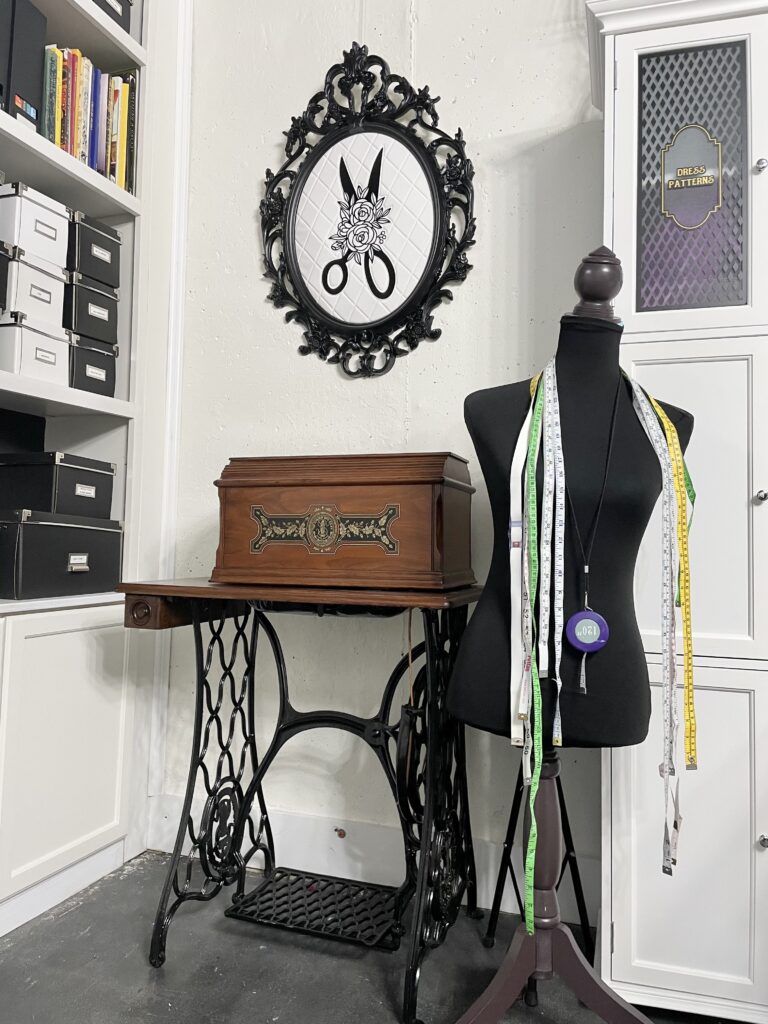 Moving along to the left, another linen cabinet turned pattern storage is to the left of the bed. My Singer VS2 fiddle base treadle machine from the 1890's is in this corner. My father did an amazing job refinishing this machine but I'm still figuring out how it works. The picture frame is from IKEA with quilted flocked heat transfer vinyl.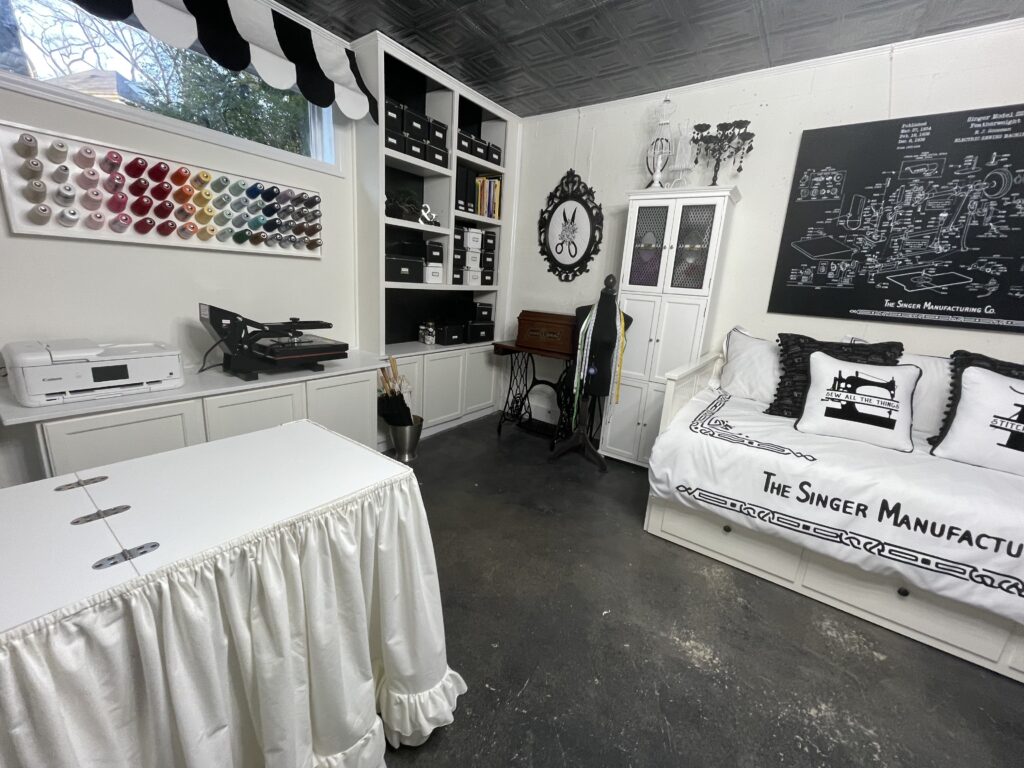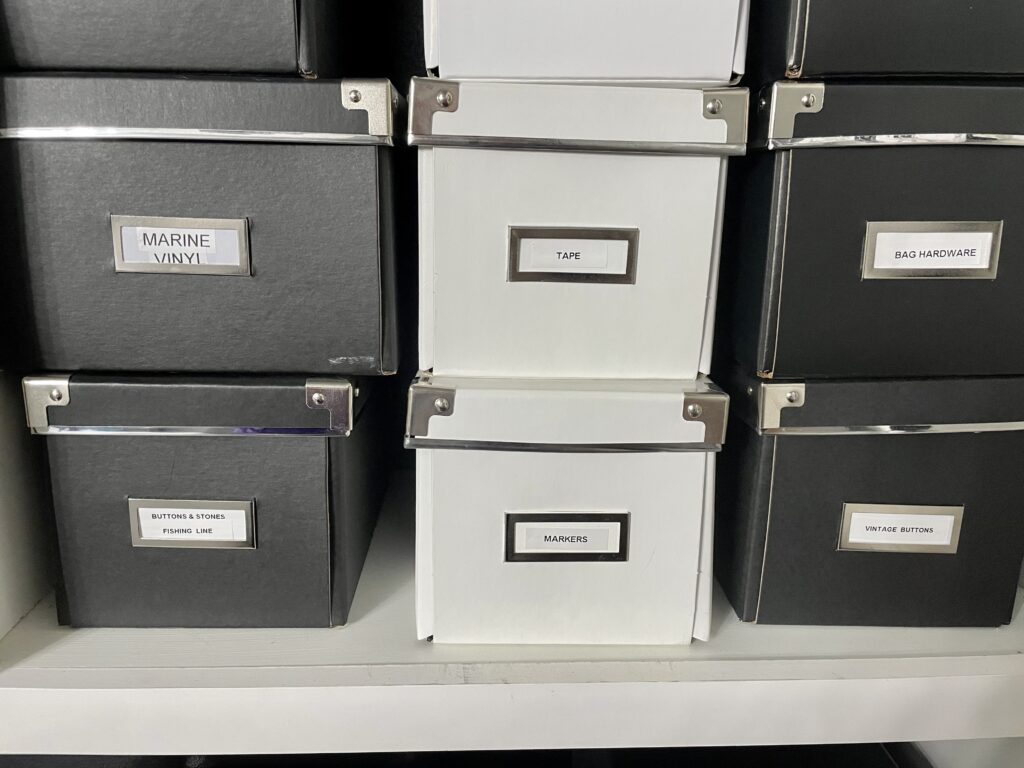 I use Kassett boxes from IKEA to help keep me organized on my built-in bookcase wall.
Striped Window Canopy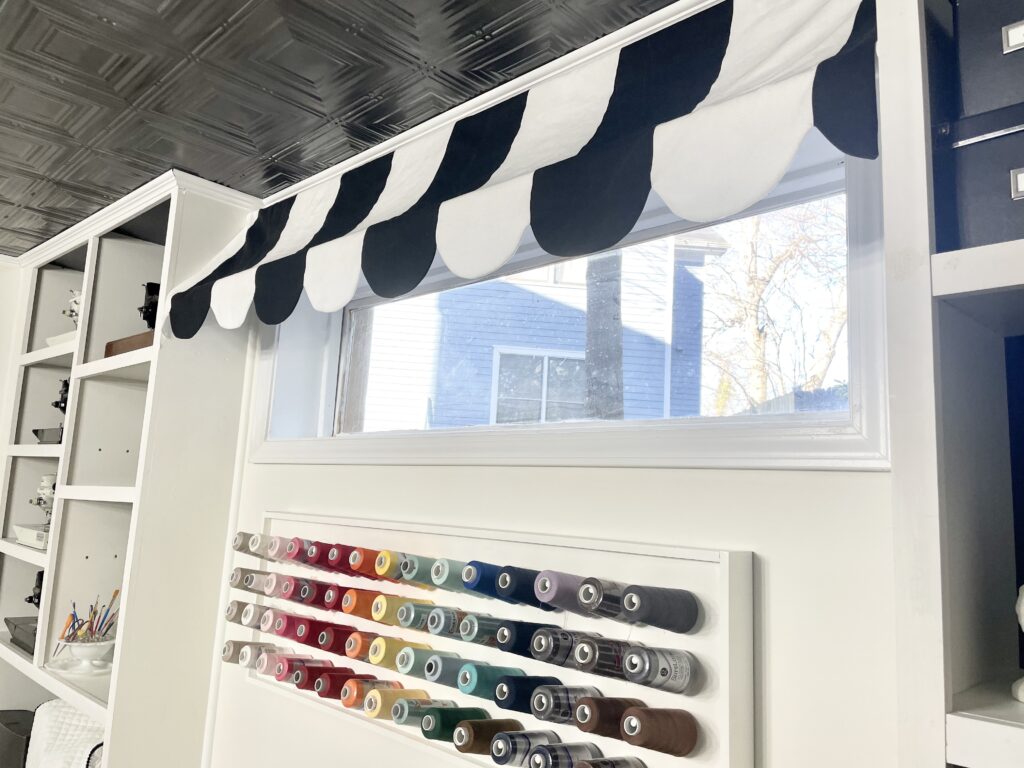 My canopy valance is made from striped upholstery fabric and two tension curtain rods. My thread rack (which holds four of each color for my serger) was made by my father. It's my favorite thing in the room!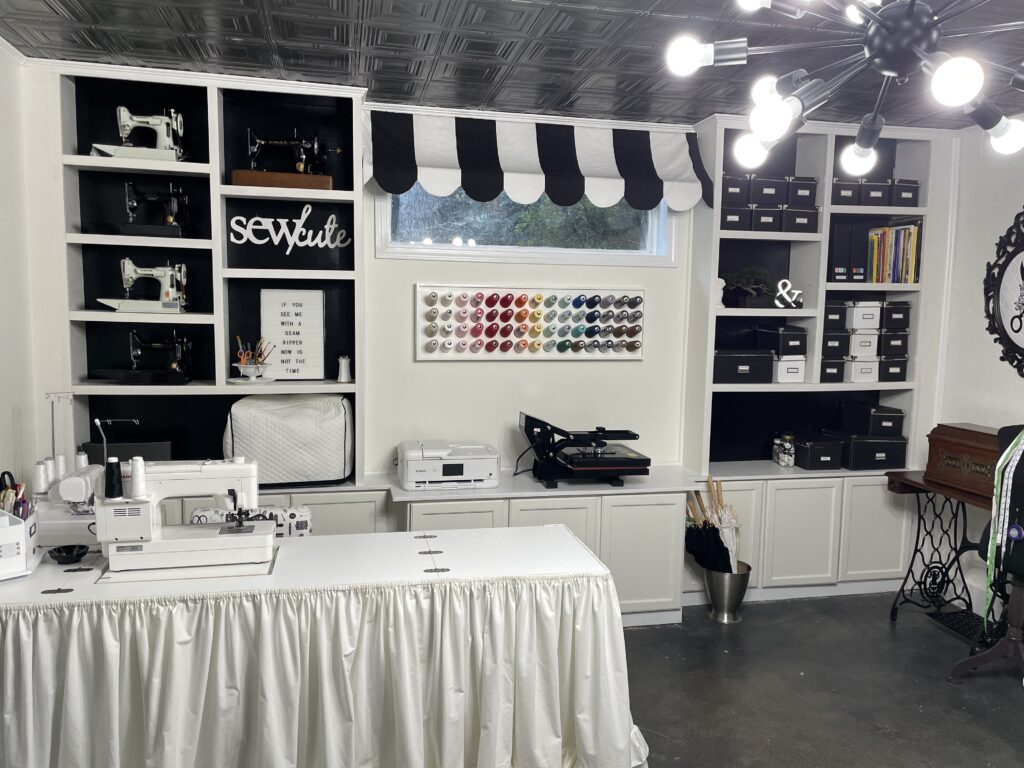 Antique Sewing Machine Collection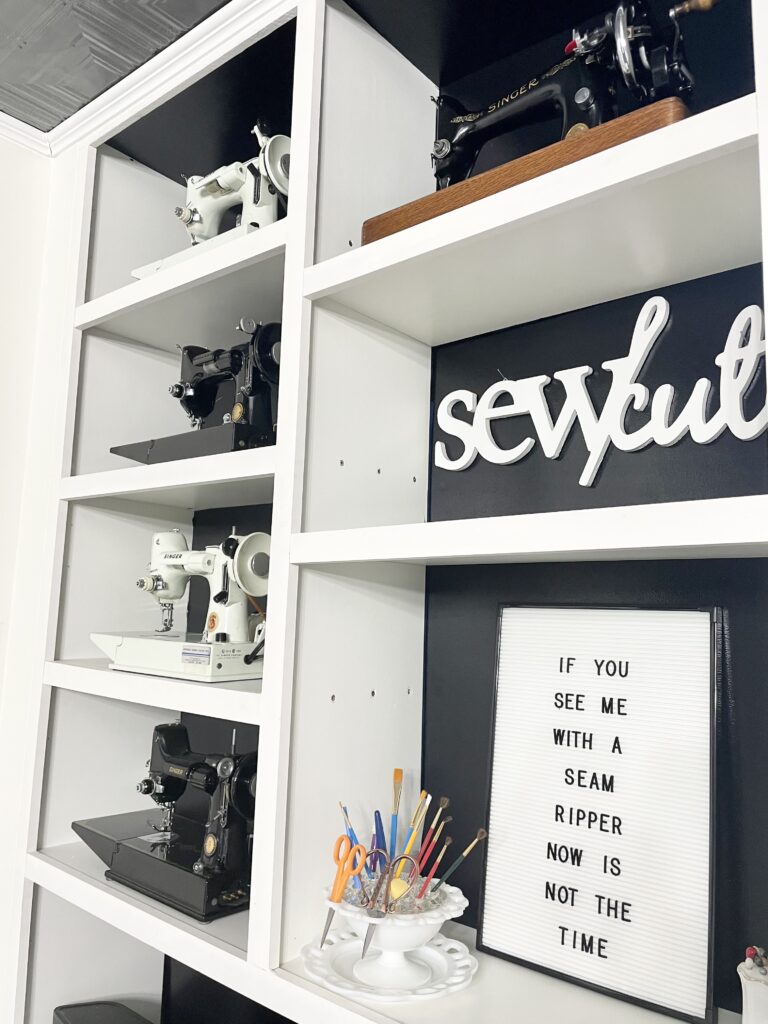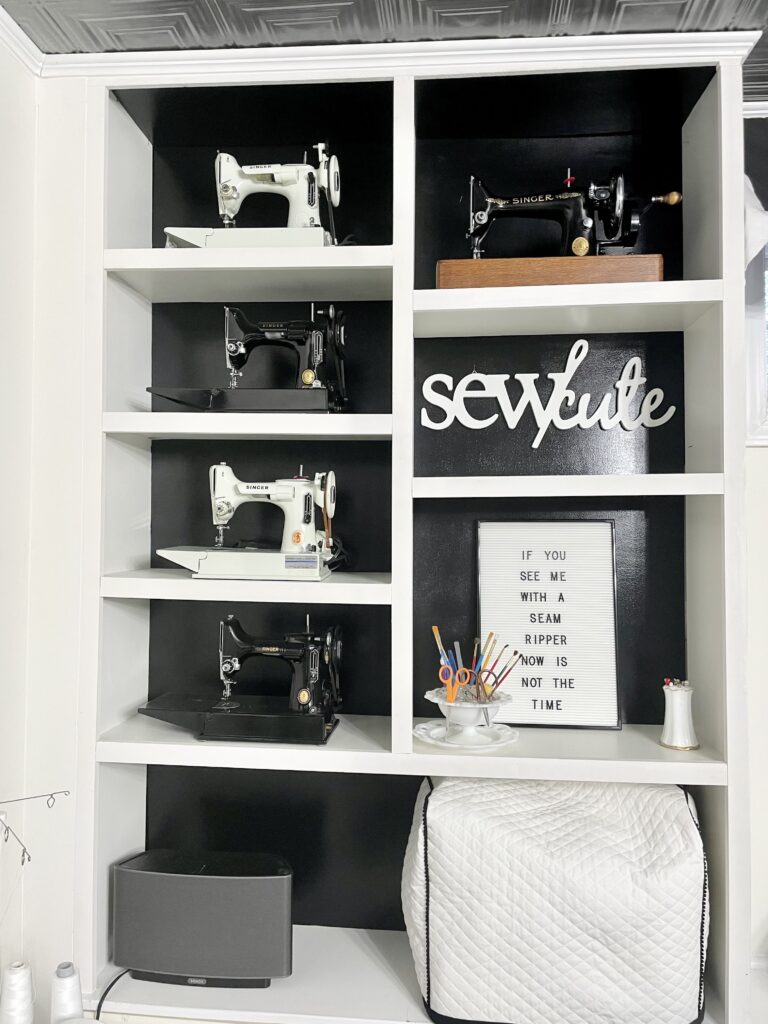 Out of sheer luck, the built-in bookcase fit my vintage sewing machines perfectly. It was meant to be! I fell in love with Singer Featherweights after my grandmother gifted me one over 10 years ago. They are tiny machines made by Singer from 1933-1969 that weigh about 11 pounds, have a flip down bed and make a perfect straight stitch. They were extremely popular for their size and been called the "perfect portable sewing machine" and I have to agree. I've slowly collected ones that were made on a loved ones birthday or have a special badge or rare color. Luckily, I've discovered them at estate sales, Goodwill and eBay. They all come in a square wooden box which I store in the closet until I need to take the machine to a class. They are excellent for quilting classes!
The machine on the top right is my newest machine: a 1939 Singer 99k hand crank made in Kilbowie, Scotland. I've enjoyed learning how hand cranks work and recently made my first two bags on this machine. You can see the Singer 99k hand crank in action and read tips/tricks on this blog post.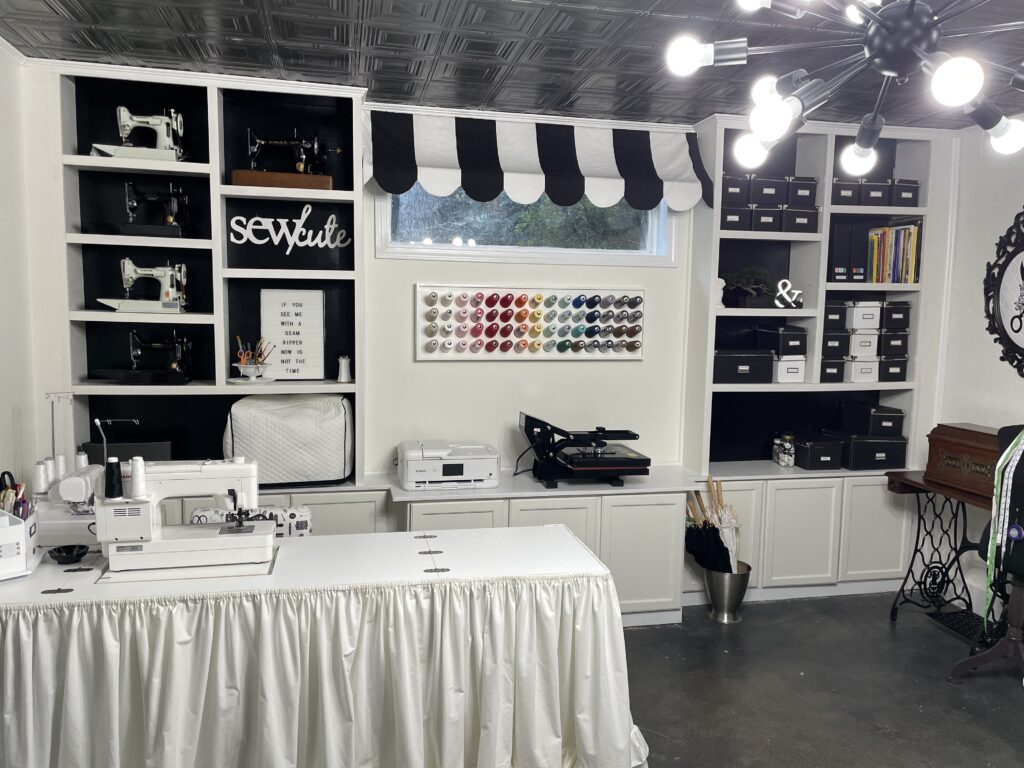 My modern tools of the trade include:
Video tour of the sewing room:
Don't want to DIY? No worries, you can purchase these items from our shop!