Finally, a sewing room and not a closet! We we purchased our first home in Atlanta in 2013. It only had two bedrooms so I needed to share my sewing room with overnight guests as well. Thanks to this Hemnes daybed from IKEA which pulls out into a king-sized bed, I was able to maximize space for sewing in our guest bedroom.
I adore the color mint green and I painted the walls the second we moved in. The color is "Grand Hotel Mackinac Blue" from Valspar. I also installed a chandelier and ceiling fan combo from LampsPlus.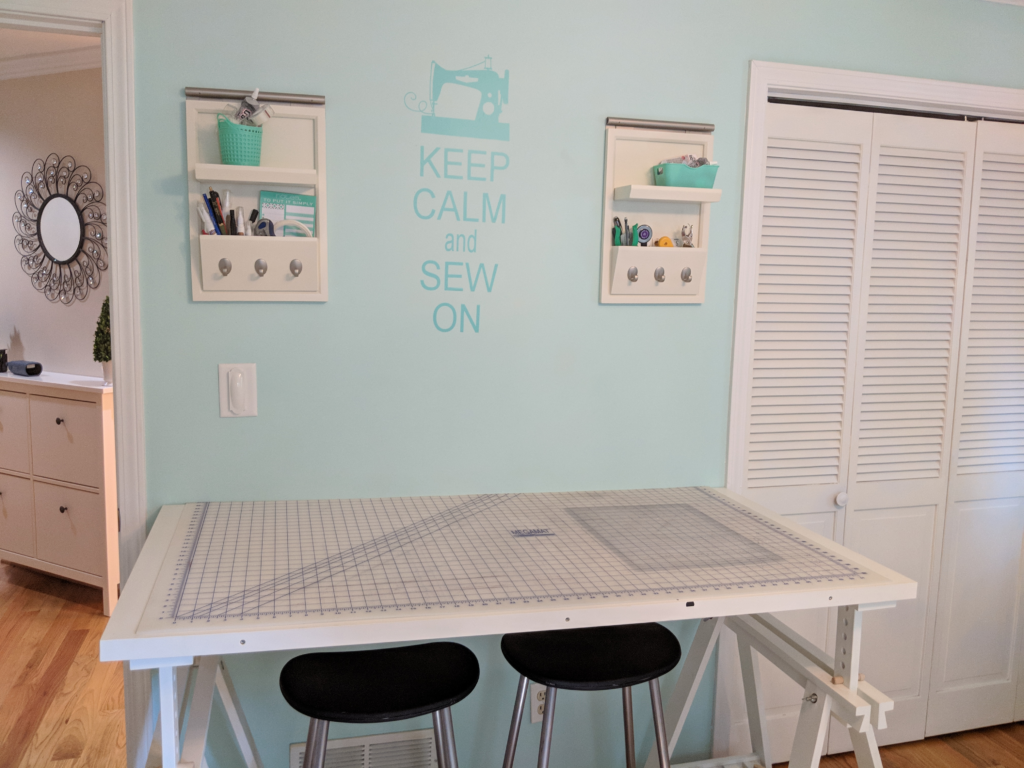 The wall-mounted scissor holders were from Pottery Barn and I cut and adhered vinyl for the "KEEP CALM AND SEW ON" words on the wall. My cutting table allows for adjustable height and is from IKEA.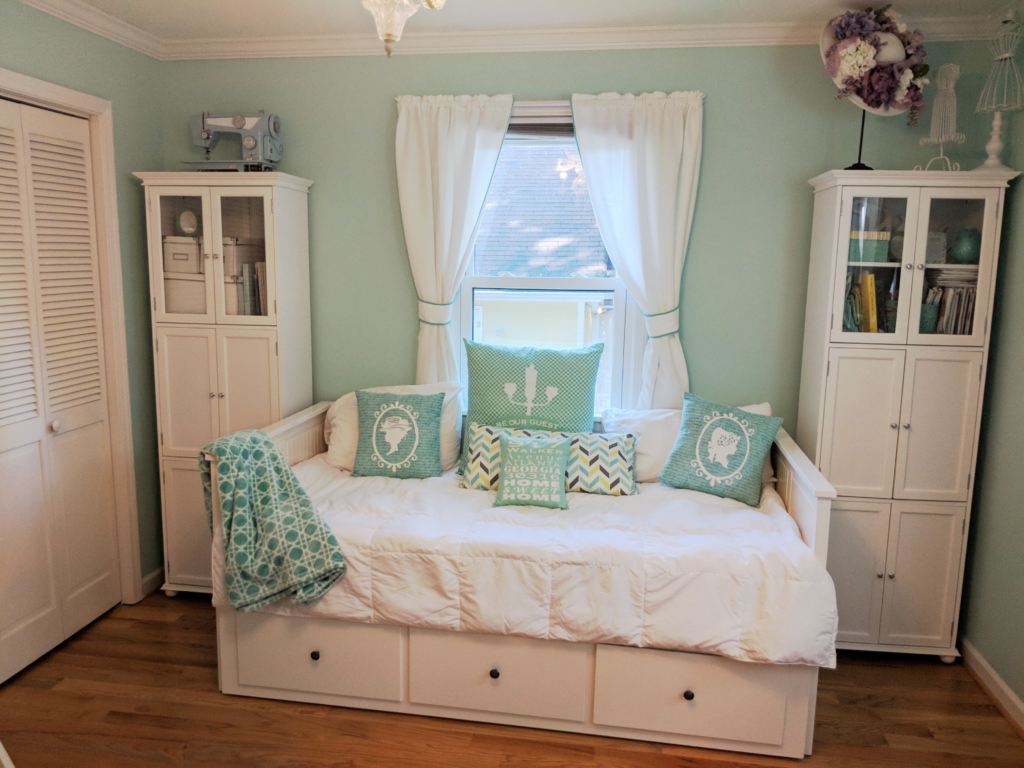 The bookcases flanking the bed are bathroom linen cabinets from the Home Depot. The bed is the Hemnes daybed from IKEA which pulls out to a king-sized bed. The pillows were all sewn by me using either vinyl or fabric paint stencils cut on my silhouette machine.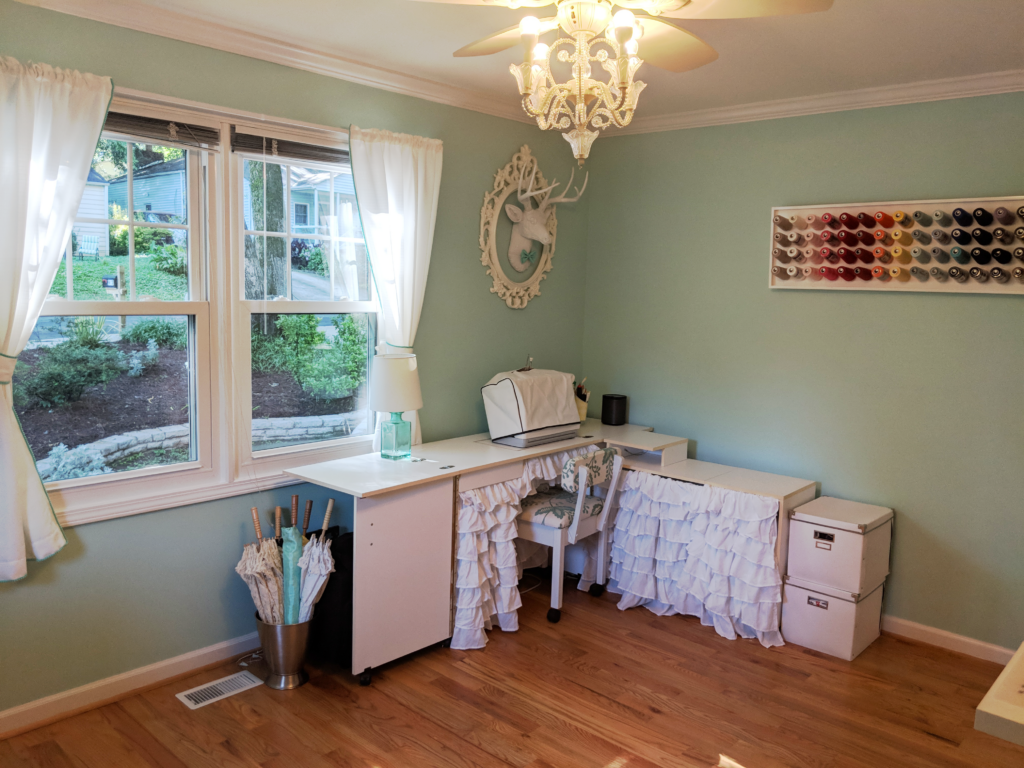 My trusty sewing desk was an estate sale find from several years ago. It's a horn brand cabinet made in 1999 and I love it! It was purchased in Kentucky, lived in Tennessee while I finished law school, and moved to Georgia with me when I got married. I love this desk! My Mom surprised me at the estate auction by bidding and buying the entire sewing room as a graduation present- desk, thread cabinet, chair, thread, machines-everything! It was a bargain and I use it almost every day!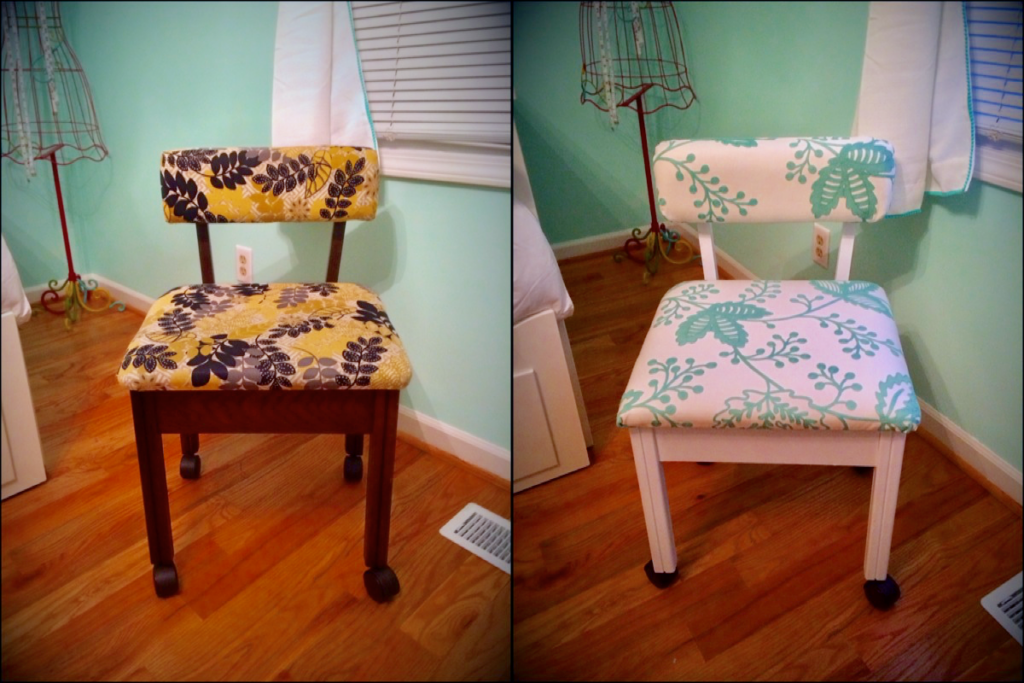 My sewing chair came with the Horn sewing desk and features a lift-up seat which stores my embroidery hoops. It's easy to recover with a staple gun and I've done it frequently over the years.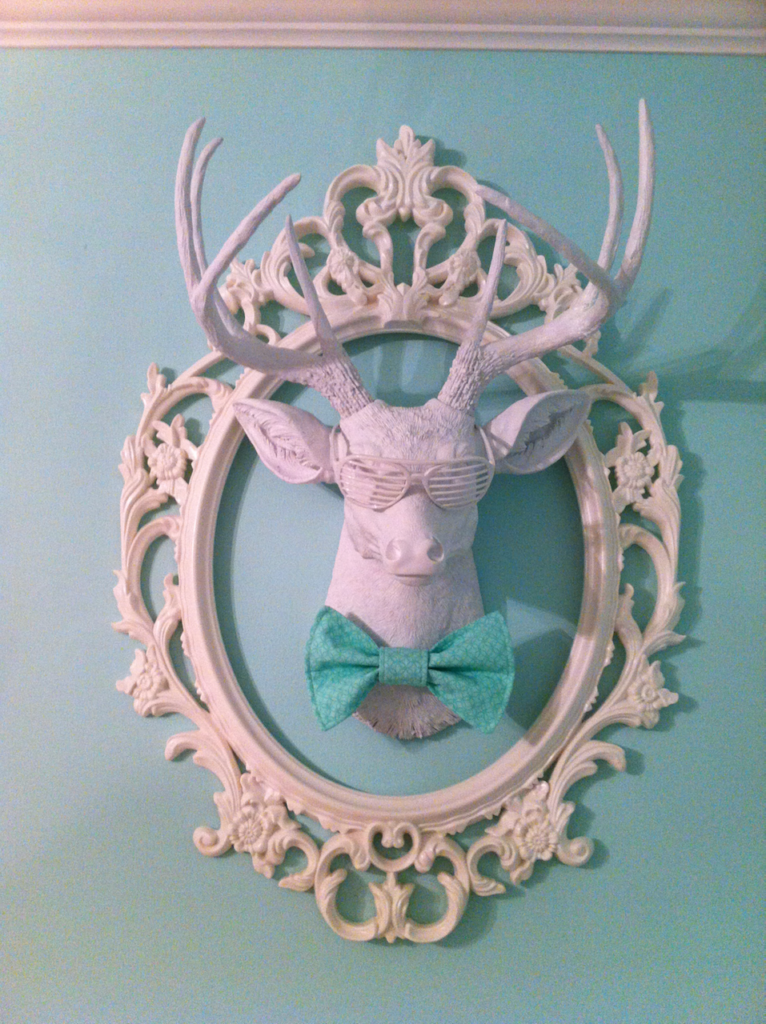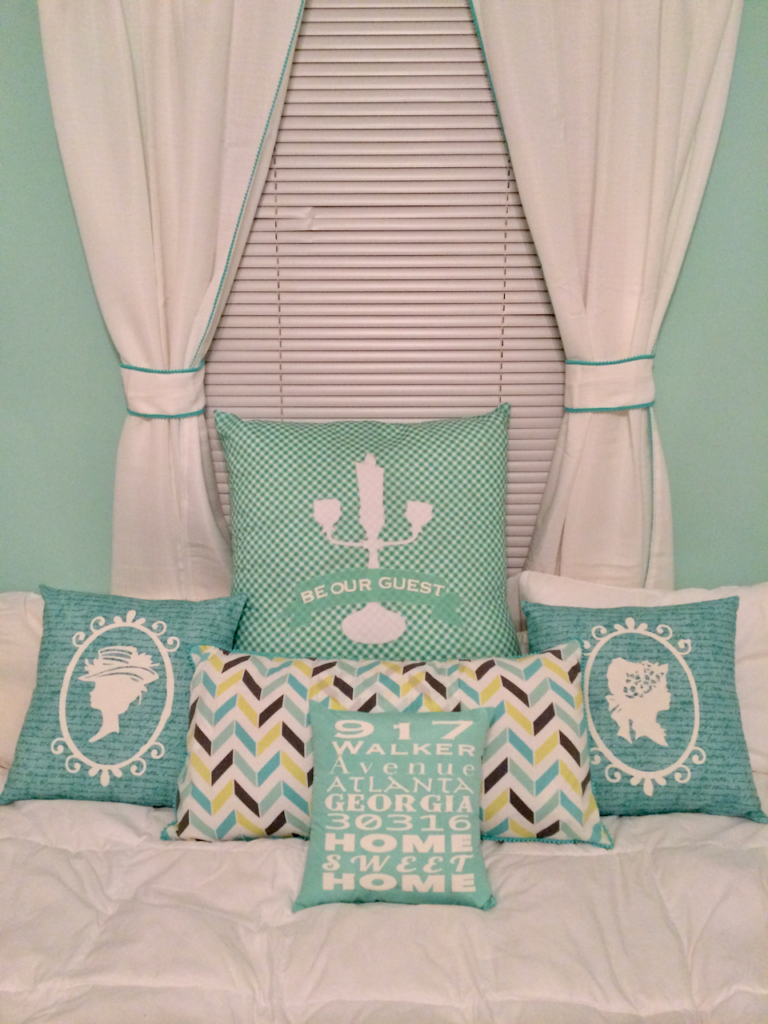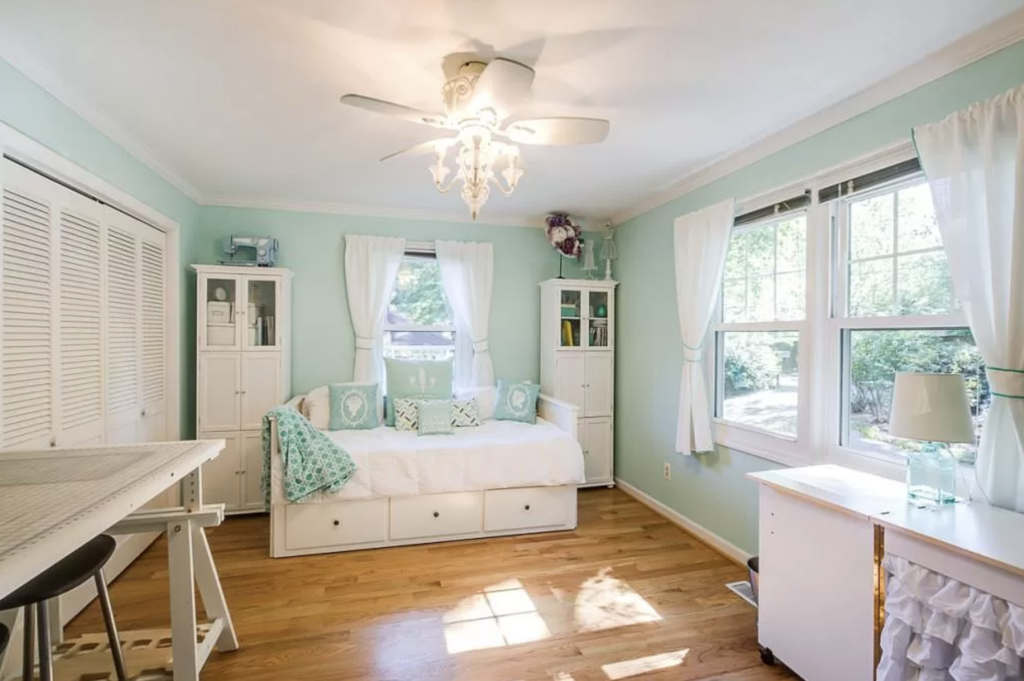 I also had a sewing room between my sewing closet and this room for a year. After we got married and moved to Atlanta, we first rented a Victorian house built in 1912 that had a wonderful front parlor that I used as a guest room/sewing room. Here is a picture of that setup: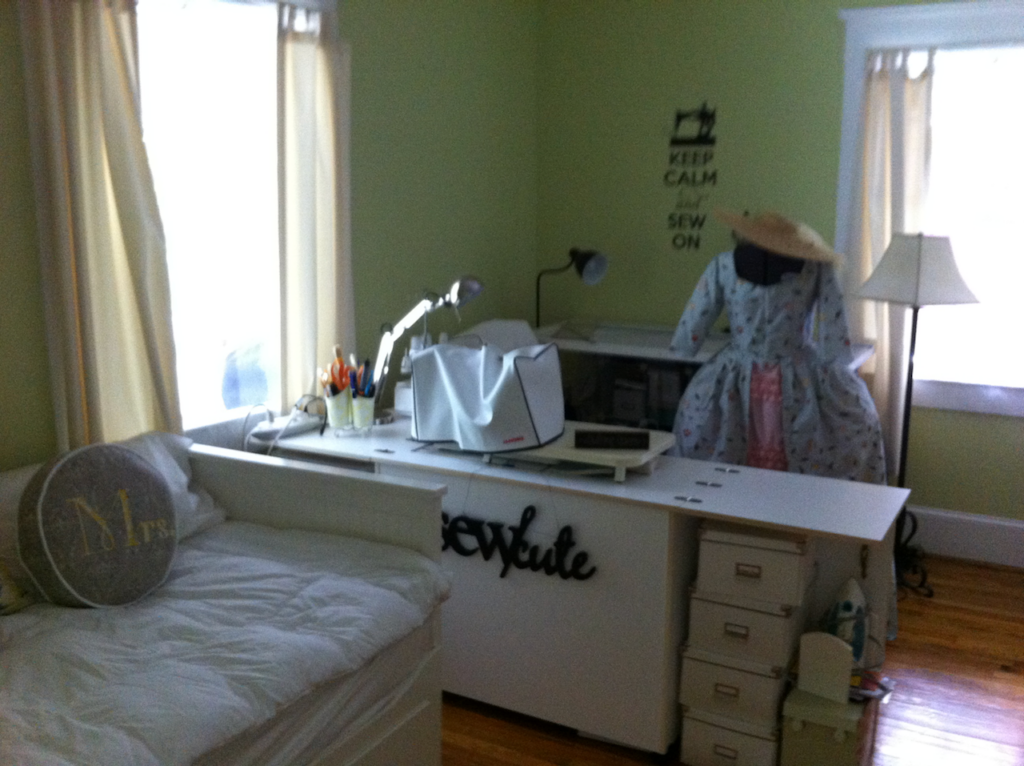 I hope you have enjoyed the tour! Be sure to check out my sewing closet from 2008 and my current sewing room here. Hope this inspires!